Rev. Gary Hegstad
Senior Pastor
Email: garyhegstad@gmail.com
The congregation of Delaware Reformed Church's mission is "Being disciples - Making Disciples." My wife Julie and I are privileged and excited to have joined them in this mission! Together we gather to worship God, to encourage and pray with one another, and to grow in our knowledge and understanding of God's Word. As disciples of Christ, we seek to be true to the calling God has given us of seeking to honor God in all that we do, and in seeking to help others become disciples of Christ as well. We welcome people who are searching to know more about God and Jesus Christ, even though they may not have a faith in God at this time. Honest, sincere questions are good to be discussed.
A congregational ministry plan was developed in 2014, which we now are seeking to implement, as God empowers and leads us. Ministry in Christ's Church isn't meant to be static, but we are to respond and minister as God leads us which means that how we do ministry will vary as to what it is God calls us to. Ministry is active. God calls us into action to live out the Word of God, and to be the Body of Christ in the world today.
We seek to uphold the Bible, God's Holy Word, we seek live in the power of Christ's Holy Spirit, and we seek to be found faithful to God and to whom He has called us to be.
Let us join together in this journey of faith and life!
-
Pastor Gary
---
---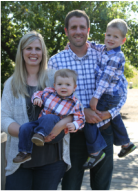 ---